Campsite
Naturist campsite Las Grullas is a quiet and small-scale site for lovers of nature and culture. Charmingly situated on an old estate amongst holly oaks and granite formations. The site is 2,6 hectare large, a part for camping and a part natural. Las Grullas is situated 2,5 km from the through roads, so your peace and quiet will not be disturbed.
Cottage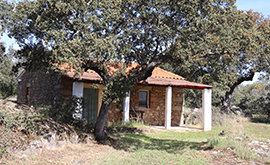 The cottage is a rural Stone house, ideal to enjoy the natural surroundings. It stands on a separate part (10.000 m²) of our estate with holly oaks and granite formations, directly behind the camp site. You can park the car next to the house. The cottage is suitable for 2 people and is 54 m² large.
Surroundings
The north of Extremadura is a paradise for walkers and cyclists. Discover the virginal scenery here and enjoy the endless panoramic views. If you love mountains and valleys, lakes, rivers or forests: you can enjoy all of this in Extremadura. Some walking and cycling routes start directly outside the camp site. Other routes start from less than a 30 minute drive.